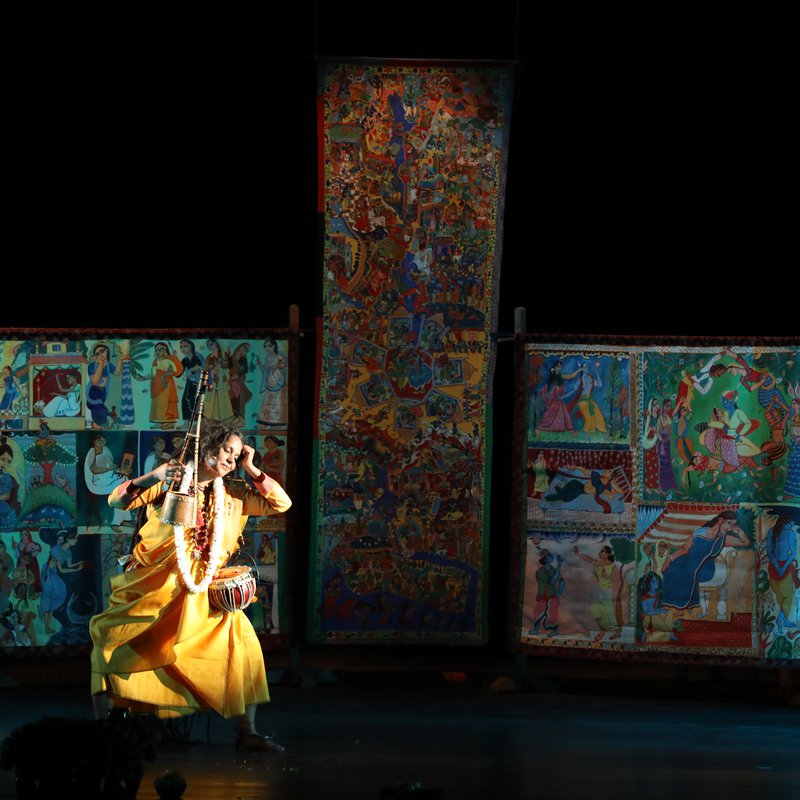 Radha Bhav - Parvathy Baul's concert (IN)
Parvathy Baul – who embodies the Baul tradition, a spiritual path rooted in Bengali folklore but going beyond it – will come to Hungary this spring as a guest teacher at the ISTA (International School of Theatre Anthropology) founded by Eugenio Barba. We will take this opportunity to present at the Fonó her authentic concert accompanied by storytelling.
She created Radha Bhav (Radha's rapture) inspired from "Kaliya", a story performed by her teacher, Sri Sanatan Das Baul. Parvathy has learned the story from him and added a few more elements. In this performance, Parvathy's visual art background merge with her music, dance and singing: all the paintings are created by Parvathy Baul, in acrylic on canvas.
The Patua scroll paintings are a Bengali folk storytelling tradition which is still alive today. Parvathy has studied this tradition with appreciation and respect, describing it like this: "The simple love epics of Radha and Krishna are sung even today from dusk to dawn, and the stories transcend all the borders of mind and self-consciousness, elevating the spectators into a pure inner experience of Bhakti (unconditional love)."
While singing, Parvathy points at different images on the canvas, going from one section of a story to another, representing it with music, voice, dance, and hand gestures, and invoking the particular mood (bhav) of every part of the story.
The Baul tradition is transmitted through Guru-Sisja parampara (master-disciple chain), through initiation. The origins of the Baul are difficult to decipher because there is no written history, and the Baul masters transfer their knowledge in song. Songs are the object of everyone's meditation. The Baul tradition has undergone many transformations over time, intersecting with the Tantric, Advaita Vedic schools, the Fakir, Sufi, Buddhist paths and the Vaishnava bhakti.
Parvathy Baul is a singer, performer, painter, teacher and storyteller of the Baul tradition from Bengal, India. After receiving her initial music and dance training during her childhood, she studied visual arts at the Kala Bhavan at Shantiniketan, the university founded by Rabindranath Tagore. Her meeting with the living tradition of Baul prompted her to choose the path of self-training in the Baul order rather than an institutional degree. Since 1995 she has performed in her home state Bengal and all over India and in several international festivals, in over forty countries. In 2012 Parvathy Baul organised the first women's theatre festival in Auroville and Pondicherry, India, Tantidhatri, in connection with The Magdalena Project, in 2016 the second in Bangalore and in 2019 the third in Kolkata. Parvathy Baul participated in the Odin Teatret performance, The Tree. In February 2019, Parvathy Baul was conferred Sangeet Natak Akademi Award, by the Government of India for her contributions. It is the highest Indian recognition given to practising artists.
Tickets: 3000 HUF in advance, 4000 HUF at the gate